Sagrin Q+BRUT IGA
Ingredients:

Water

MALTED BARLEY

White Must of Moscato Grapes

Hops

Sugar

Yeast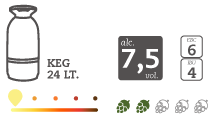 Description
AVAILABLE IN KEGS ONLY
The latest beer of the IGA Sagrin team, the evolution of the IGA.
The freshly produced Samos wort is inoculated with a selected strain of Saccahromyces cerevisiae usually dedicated to aromatic fermentation.
Extreme dryness is therefore achieved by adopting the technique usually used with Brut IPA beers, that is with the adoption of particular enzymes that continue to degrade the more complex sugars into simple sugars, easily assimilated by yeast. Fermentation is then pushed to the extreme to eliminate any residual sugar and give us a light, dry beer with an aromatic profile that is clearly attributable to the IGA.
The new way of the Italian Gr. Ale by Birrificio Sagrin!